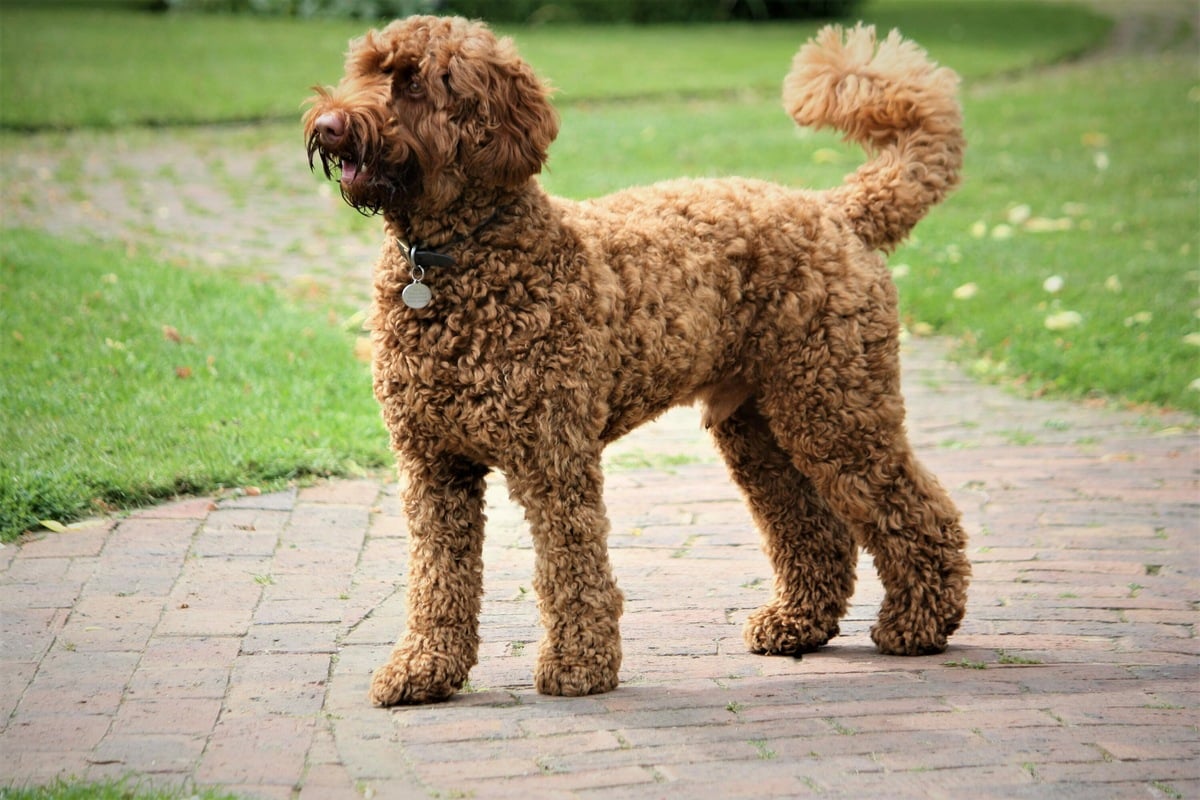 7 Curly-Haired Dog Breeds Too Cute To Compare
Curly-Haired Dogs: Roll With The Seven Cutest Breeds
Dogs with curls are extremely cute, whether those curls are pristine curls or fluffy frizzies. But these manes are more than just gorgeous, they're also practical.
Some dogs have shiny, silky coats, while others have rather dull coats. But no matter how shiny, all curly dog ​​breeds have a dense undercoat, which makes petting them a pleasure and a curly pleasure.
Curly-haired dog breeds shed significantly less than other breeds, making them less likely to trigger allergic reactions in humans. But the beautiful texture of their coat requires special care and attention.
Grooming is extremely important for curly coated dogs. Canines that look a bit like Goldilocks don't shed much, but their coat should be brushed and combed a lot. Some of them need daily brushing to prevent their coat from becoming tangled. If mangled, dirt and even other small animals can get stuck in their dense fur.
But like many beauty routines, grooming can go too far. In the wild, dogs groom themselves by rolling in the grass or crawling through the bushes. Curly hair must retain its natural oils so that it can perform its natural function of keeping a dog warm in cold water, as well as drying quickly. A diet high in cold-pressed oil can help boost these functions, as well as others like good eyesight and brain function.
That said, here are seven adorable curly-haired dog breeds that are just too cute to compare — but we'll try some ways!
1. Bichon Frize, the French delight

The Bichon Frize is a small, curly-haired breed of dog. Frisé means frizzy or fluffy in French. Their silky, tightly curly coat is usually white and contrasts sharply with their small black eyes and black button nose. There are also variants with cream, light brown or rust fur.
Although independent and sometimes stubborn, this curly miscreant is considered a highly intelligent and obedient breed of dog. They can also be sensitive, affectionate little things that love nothing more than to cuddle with their owner. These little white balls of cotton fluff love to play and need a moderate amount of exercise.
They are happy to be part of the action, but don't like very long walks.
2. Water Dog Coats Protect This Curly-Haired Dog Breed From Their Element

Water dogs get their name from the fact that they were originally bred to hunt or retrieve prey in water. Even today, these races go straight into search and water retrieval missions.
It is their curly locks that make these breeds special and particularly suited to water. Their special fur tends to be dense and curly or frizzy. Most water dog breeds tend to have dark colored curly coats, but a few like the Lagotto Romagnolo and the Wetterhoun (or Frisian Water Dog) have lighter or multi-colored coats.
Their coat also has a natural oily film that coats each hair and helps repel water from their skin. This allows these breeds to stay warm longer, even in cold water. They also dry very quickly when they are back on land.
Curly-haired water dog breeds include:
American Water Spaniel
Barbet
portuguese water dog
Irish Water Spaniel
Lagotto Romagnolo
spanish water dog
Wetterhoun
3. Poodles are the OG of curly-haired dog breeds

Poodles are probably the most famous curly-coated dog breed. These proud pooches don't lose much at all. But they need a lot of hair care. So much so, in fact, that most of these dogs need a permanent appointment with a professional groomer.
4. Bedlington Terriers are a weird but lovable curly-haired dog breed.

This curly-haired dog is unique due to the mass of curls on its forehead and muzzle. They have a distinctive pear-shaped head thanks to the way the fur forms a "bun". The curly tufts of hair at the tips of their ears add to their quirky appearance. The most common color for a Bedlington terrier is silver.
These terriers have a sweet, gentle temperament. They are generally extremely agile and athletic, as well as fast runners and good swimmers.
Anyone considering acquiring this curly dog ​​breed should be equipped to ensure the wild thing gets the exercise it needs.
5. Curly-Coated Retrievers are real family dogs.

Most people associate smooth, short fur with retrievers. But there is a type of retriever with tight curls: the curly coated retriever. This breed is a cross between the Newfoundland, the Irish Water Spaniel and the Poodle. Like Golden Retrievers and Labrador Retrievers, Curly-Coated Retrievers are popular family dogs due to their friendly, playful temperaments and love of fetch.
They can also be dominant watchdogs who are very energetic and watchful. Owners of curly-coated retrievers need to ensure that their best dog friend gets the training and exercise they need to be well-rounded pets.
This breed has a densely curly coat that is usually black or brown. Like most curly-haired dog breeds, their dense fur makes it easy to swim in cold water. They don't get cold too fast, which is a good thing, because these pretty things never get tired of splashing.
6. Labradoodle, a new dog breed with curly hair

This dog's mix is ​​in the name: a Labrador and a Poodle mix. More specifically, it is a cross between a Labrador retriever and a standard, miniature or toy poodle. Like other mixed breeds, Labradoodles are not considered purebreds or one breed.
This cross has the best of both purebred parents. He has the curls of a poodle and the loyalty of a lab. In other words, this cute curly dog ​​is a very friendly, loyal, and playful pup who loves long walks or dog sports.
Discover the other canine guides from TAG24:
7. Bouvier des Flandres dog breed with curly hair with silky waves for days

The Bouvier is a muscular and alert herding dog. The breed, which originated in Belgium, tends to be very protective of its herd or family, but is not aggressive. In fact, this curly pup can be a friendly, even-tempered family dog. They can be extremely affectionate and tend to get really attached to one particular person, or their alpha.
These working dogs have wavy coats and are rather rough and frizzy. They have both thick beards and mustaches that need to be trimmed regularly, as well as cute curly tails.
As with all curly-haired dogs, this breed needs to be combed and brushed royally to keep their coat looking good and the skin underneath healthy.
Cover photo: Unsplash/Bruce Williamson