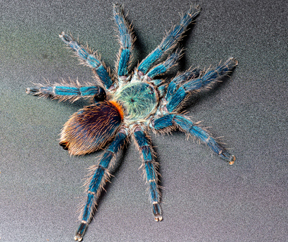 Exotic pets caught in federal legislation to boost U.S. economy – Reuters
Exotic pets caught in federal legislation to boost US economy
D.diamondinensis
Photo of Dr. Andy Anderson
The Dolichothele diamantinensis, also known as the Brazilian Blue Dwarf Beauty, is a tarantula owned by Dr. Andy Anderson of New Jersey. The vet is concerned that pending federal legislation to control invasive species may inadvertently and unnecessarily restrict the ownership of exotic pets.
Federal legislation designed to boost the US economy by pumping hundreds of billions of dollars into domestic technology development to counter China's dominance in areas such as semiconductor manufacturing has raised concerns in the veterinary community. .
The reason? Buried in the 3,610-page America Competes Act of 2022, passed last month by the House of Representatives, are new restrictions on the importation of non-native but common animal species and a ban on their transport through the state borders.
The restrictions, contained in amendments to a federal conservation law known as the Lacey Act, are intended to control the damage caused by invasive species. But vets and pet owners say the legislation as drafted would make it harder for exotic pets to access veterinary care and possibly inadvertently worsen problems for non-native species in the environment.
Dr José Arce, president of the American Veterinary Medical Association, said in a written statement provided to the VIN News Service: "While well-intentioned, the AVMA opposes the Lacey Act language that has been quietly included in the America Competes Act. [that was] recently passed by the US House of Representatives. … We have serious concerns about the legislation as it could impact access to care for wild and exotic animals, as well as create regulatory hurdles to care through additional permissions from research institutions.
The legislation is being reconciled by a conference committee with the 1,200-page U.S. Innovation and Competition Act, passed by the Senate in June. There are hundreds of differences between the two trade and industrial policy compendiums; among them are changes to the Lacey Act, which are not in the Senate bill.
Unbox the Lacey Act
Adopted in 1900 and amended since, the federal conservation law prohibits trade in wildlife, fish and plants through state-by-state blacklists that are enforced by the US Department of Agriculture and the US Department of the Interior.
The blacklists consider more than 200 species of mammals, birds, fish, molluscs, crustaceans and reptiles to be "harmful", meaning they could harm human health, agriculture, to horticulture or forestry and the welfare and survival of native wildlife in the United States. . Blacklisted species are prohibited in the United States
Any unlisted species is allowed to be imported, sometimes with permit or health certificate requirements. The list is constantly changing. For example, a 2012 Lacey Act amendment banned the import and interstate transport of three species of python and the green anaconda due to their impact on the Florida Everglades.
The effects of invasive species illustrate the need for more restrictions, according to US Senator Marco Rubio of Florida, sponsor of a separate bill to strengthen the Lacey Act that was introduced in the Senate in March. "Unfortunately, we have seen how ecologically devastating invasive species can be," he said in a press release. "Invasive species threaten to decimate Florida's native plants and animals, and we must do what we can to prevent the introduction of new pest species."
Dr. Andy Anderson
Photo of Dr. Andy Anderson
Dr. Andy Anderson, holding a veiled chameleon, worries that proposed language in the America Competes Act banning the transport of exotic animals across state lines could make it difficult to obtain veterinary care for these animals.
This requires limiting the import of species before they are tested for invasiveness and restricting their interstate trade, he said. Both terms are part of the America Competes Act version of the Lacey Act amendments, which were added as a rider to the bill just before the House passed it on Feb. 4.
The lawmaker who inserted the Conservation Act amendment into the America Competes Act has not been publicly identified. There is no attribution on any of the more than 3,000 pages of the bill. Rubio, a senator, did not participate in the development of House legislation.
Impact of proposed changes
America Competes Act wording calls for replacement of Lacey Act blacklist system with a white list of animal species that has not yet been established and whose import into the United States would be legal. Rather than excluding only those with a history of the problem, such a system would require importers to prove that their species are not invasive or otherwise harmful.
In other words, all birds, reptiles, aquatics, invertebrates, arachnids and other types of exotic animals kept as pets could no longer be imported into the United States or transported across state lines unless these species are permitted through an administrative rulemaking process that considers them to pose a low risk to the environment.
"That means they can tag any animal as a pest and ban it within 24 hours, and there's no [appeals process]"That's how Dr. Andy Anderson, New Jersey practitioner and exotic pet ownersees it.
If the Lacey Act amendments pass the conference committee and are signed into law, Anderson fears repercussions for her practice, where some of her clients own exotic pets in neighboring New York and Pennsylvania. Since the proposed law restricts transportation across state lines, he said, these clients would no longer be able to seek treatment at his practice.
"I think there should be a general vet exclusion," Anderson said. "I think anyone who has, within reasonable limits, species of birds, reptiles [and the like] …should be allowed to take them to the vet."
He added that he suspects lawmakers are "not realizing that people are taking these animals to the vet."
Anderson, who has kept boa snakes and tarantulas most of his life, envisions a variety of possible outcomes if the legislation passes as written. "If people can't get their pets to a vet, I think they'll just start to throw them away and make the problem worse," he speculated.
Another possibility is that people are ignoring the ban, which would effectively ban exotic pet keepers like him from traveling with their pets to another state. "Are they really going to stop people from moving interstate? Probably not," Anderson mused. "People aren't going to stop keeping things, even if they can't do it legally. shipments.
If the Lacey Act stipulations survive conference committee negotiations, the House and Senate will need to vote on the compromise agreement for the initiative to pass. The process is expected to take weeks, setting up the final bill for passage this spring.
VIN News Service Commentaries are opinion pieces featuring ideas, personal experiences and/or views on current issues by members of the veterinary community. To submit a comment for review, email [email protected]