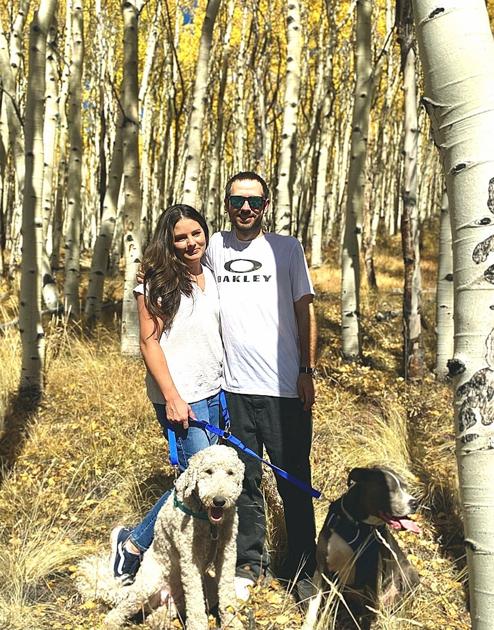 Gone to the Dogs: New Owners Buy Dog Business | New
The Dogs stores in Salida and Buena Vista have had new owners since October 6th.
Laura and Tony Bussing have retired, "passing the leash" to Sasha and Tom Smalley after 12 years in the business. Although this is Sasha's first commercial venture, she has extensive experience in dog grooming, having run grooming salons, studied pet nutrition, and currently owning two dogs of her own. Obi is a pit bull mix and Satine is a standard poodle.
"I've always wanted to have my own business and admired what Laura and Tony did with Gone to the Dogs," Sasha said. "It seemed like the right solution. I fell in love with the industry and everything dog related, and we recently returned to Salida after a seven year absence. I became a groomer at Gone to the Dogs, then approached Laura to buy the business.
The same friendly service continues as no staff changes are underway. The Smalleys have lived here in the past and Sasha grew up in Saguache. They have friends in the area and say they are excited to put down roots in Chaffee County.
Tom was a talented ski racer and they want to have a Gone to the Dogs Town Challenge team this winter.
The Bussings started Gone to the Dogs in 2009 in downtown Salida and opened their second location in Buena Vista in 2012. In 2016 they opened the store on US 50, and in a similar trend they moved the location of Buena Vista towards US 24 in 2019.
What started as a family business has grown into a multi-site business with eight employees.
They plan to continue living full time in their RV, attending dog agility competitions and teaching seminars. Laura is a well-known seminar presenter and competitor in the canine agility world and in November she competes at the US Open National Championships in Florida. Next, she travels to Pennsylvania to compete for a spot on the United States' European Open Agility Team with the American Kennel Club.
"I am excited for this next chapter in our lives," said Laura. "Gone to the Dogs was my vision, and after 12 years it's a great time to hand it over to amazing local people who will take it to the next level. I've always wanted to try for a global team. It took many years of training and persistence to get there. My 4 year old border collie, Cam, and I are ready to go.
The Bussings still own property in Chaffee County and love to be a part of this community. They plan to return to snowmobiling in the winter while Laura teaches, and they will both be back in the summer when she continues to teach agility classes at Gone to the Dogs and host a canine agility competition in July. .