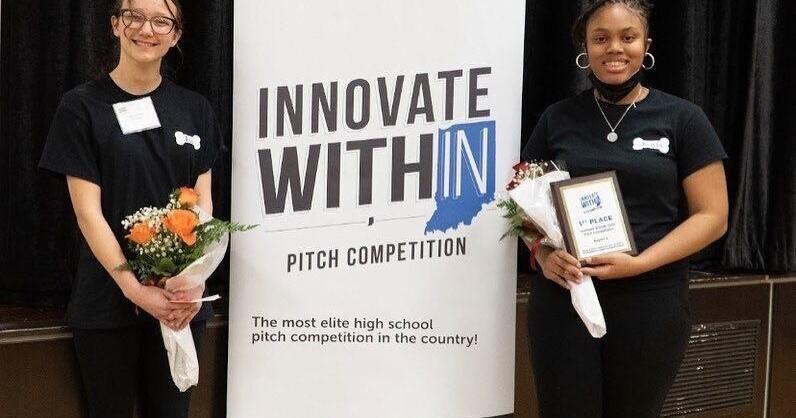 High School Entrepreneurs Win State Competition, Start Business | New
INDIANAPOLIS — Butler University hosted the STARTedUP Foundation's 2022 Innovate WithIN State Competition on June 10, and Patchables LLC walked away with the win.
Patchables LLC is a dog toy company started by two Hobart High School students, Isis Fleming and Kayla Davis. Their products are made entirely from recycled materials. The company recovers these recycled materials from textile production waste and donations. This leads to each toy being unique, due to the different given textiles that are used.
Fleming and Davis came up with the idea in their engineering class on a required assignment. Their teacher, Daniel Schultz, asked them to identify a problem in the world that needed to be solved and combine it with things they love and excel at. With this, Fleming and Davis combined the problem of pollution, with their love of dogs, and Fleming's love of sewing.
After landing on this idea, they spent three months researching, studying and developing their idea. The duo then went on to compete, beating classmates and others to become their region's champion. They received $1,000 and participated in a "boot camp" to further develop their prototypes and ideas after winning the regional. Following this, Patchables competed with nine other regional champion teams in the state competition, as well as a few generic teams. At these competitions, they had to present an informative six-minute business pitch, showing their prototype and explaining what they were doing, their inspiration for doing it, and how they planned to do it.
These sales presentations were held in front of about 300 people, according to Fleming. Fleming and Davis were unaware of this and admitted they weren't nervous about their presentation until they learned the size of the audience.
"When we were doing it, we weren't necessarily nervous," Davis said. To be honest, I didn't expect to go this far. This is all very shocking to me, but now that I'm here, I know I can go further."
"Initially, no, we weren't nervous," Fleming added. "Once we were there, oh my god, the first day before we launched, my heart and Kayla's heart, we were trying to calm down because of our nervousness. We kind of built on each other and of course we managed to overcome that because we are here now.
The couple's ability to overcome these nerves propelled them to victory in the competition, resulting in a reward of $25,000 in seed funding being placed in a corporate bank account to continue developing Patchables, with $10,000 additional each towards a 529 education finance plan and the highest scholarship. levels offered by the 18 partner universities of Innovate WithIN.
Along with the reward, both Fleming and Davis were able to walk away with lessons learned.
Fleming said his biggest takeaway was, "Perseverance. If you persist in your passion for something you do, it will take you further than anything else. You must have passion for what you do to be successful. »
Davis also talked about developing his skills. "Something I learned, I don't know if you can learn, is confidence. I've gained a lot since I started doing business, mostly because I had to do a lot to pitch my own ideas, believe in myself, and stay passionate," Davis said.
"Not only are you 15 and starting a new business, you have to be in a world where you're around adults, so if you're not confident enough, it's hard for people to hear what you're saying. or being so invested in it, so gaining confidence has helped me not only in business but in school in general, and that's something that's been really amazing for me.
Since the contest, Patchables has already made a few updates and changes, such as a new website and a new manufacturing partnership. Although Fleming sewed the original prototypes, Patchables has now partnered with a manufacturing company to manufacture their products. "Our manufacturer is Tradewinds, which is a company located in Merrillville, Indiana that employs the disability community, which we felt was important to us because they have good practices, good payroll, etc.," said Fleming, "They've been great with the job with us, and we've completed our first and second runs. Once we get our (new) machines, the labor cost should be cut in half, that which will be great for our business," said Fleming.
Fleming and Davis talked about the time commitment, estimating it takes about 25 hours out of their week. Davis said: "During the school year, we worked a lot on this, and it took us a long time. I think that's fine with us because even as normal teenagers you want to do your fun stuff on the weekends but it's something we're passionate about so it's not something we feel because it's It's work, so we don't do it. You wouldn't mind doing it on the weekends, or working nights and doing it because it's something we're passionate about.
Davis and Fleming are both 15-year-old sophomores and have to take time off for school, while Davis has a part-time job. They do, however, plan to develop Patchables in the time they have.
"Patchables is going to go a long way. It's not just a side hobby. This is going to be fully developed to the best of our two abilities. We are looking to make more products. We're looking at different companies that we can help reduce their textile waste, and the general thinking about what we can do better," Fleming said, "It'll be a company one day, it'll be a full-fledged business one day and we We'll keep working on it until the end of time, honestly.
Davis added, "I think we're going to push this business as far as we can. We want to see it grow into something that you hear about like "oh I know what it is", like you hear Petco, and you know what it is. We will continue our skills and ourselves as we age, and we plan to be successful with this business. »
Patchables already has new product ideas. Currently, they only make two toys for dogs, called rope toys and bone toys. They are looking to add different sizes to these toys, as well as cat toys, leashes, harnesses, and other pet products. Their biggest goal is to go beyond just making dog toys and meeting the needs of a variety of pets.
You can find them on Facebook and Instagram @patchables.toys, or on their website here.