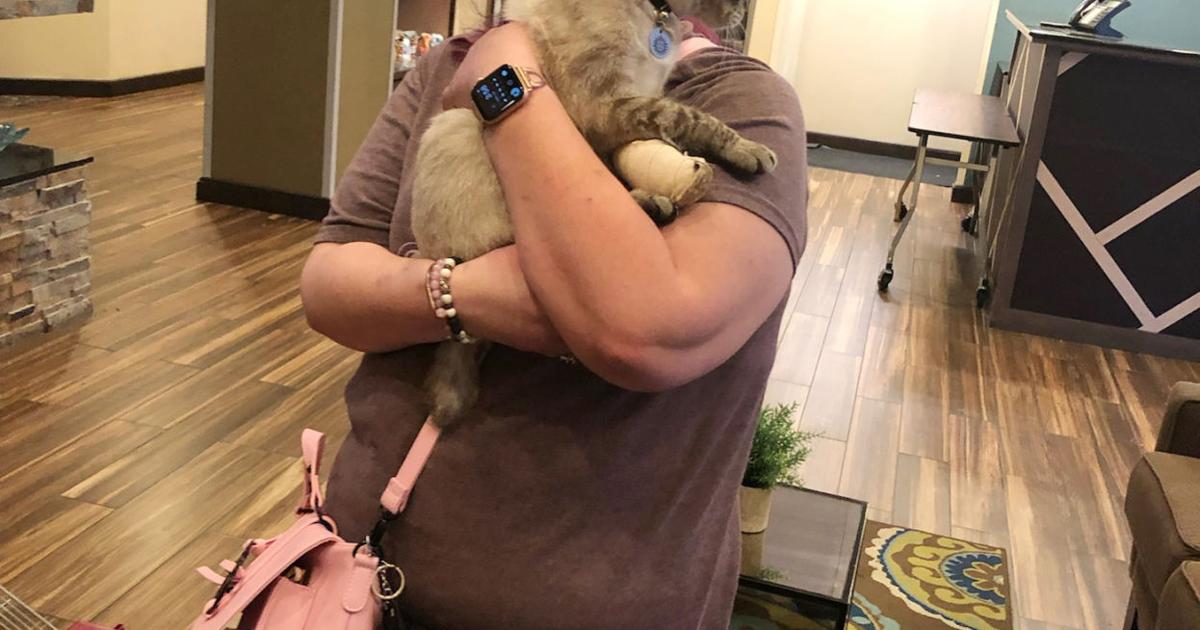 Home For The Holidays: Cat Found In Blount County Is Returned To Owner In NH | Community
Thanks to Blount County Animal Center animal control officers and veterinarian Dr. Michelle Williams, a very lucky cat is enjoying his first Christmas at home with his owner in three years.
In mid-July, Blount County animal control officers found a cat named Castiel lying on the side of a road in Blount County.
The cat was on the verge of death – severely emaciated, dehydrated, anemic, and covered in fleas and maggots. Part of his tail had been severed.
At the Blount County Animal Center, Williams examined the pitiful Tabby-Siamese mix and wondered if euthanasia would be the most humane response.
"It would have been a justifiable medical call just to let him go," she said.
But then Williams discovered that the injured cat had a microchip.
He was registered in the name of Britni Storm Hakala with an address in Knoxville and a local phone number, now disconnected. Data from the microchip indicated that the cat was 6 years old … and that it had been reported dead three years ago.
Saving Castiel's life – and returning him to his long-lost owner – has become Williams' mission.
From the address on the microchip data, Williams guessed that Castiel's owner was a UT student. While doing internet sleuthing, she found a "Britni Storm McCuiston" (Hakala, as it turned out to be her female name at the time) on a list of 2015 UT graduates.
A little more research led Williams to McCuiston's Facebook page. The page confirmed that McCuiston, who now lives in New Hampshire where she works as a laboratory scientist at Pfizer, was originally from Tennessee and a graduate of UT.
Williams messaged McCuiston via Facebook, paving the way for a possible reunion.
Back to top
In 2016, while still living in Knoxville, McCuiston visited the Young-Williams Animal Shelter. When a little kitten climbed onto her lap and head butted her, she was hit.
"I took it home with me," McCuiston said. She named the likable fuzzball Castiel, after an angel from the "Supernatural" TV show.
McCuiston said Castiel and her other cat, Millicent, were great companions and a huge source of comfort, especially during her divorce.
In 2018, McCuiston had moved to Anderson County, Tennessee. One day, shortly before she moved to New Hampshire, McCuiston and her cats were on the balcony of her second-floor apartment. Castiel jumped up and ran into the nearby woods.
McCuiston searched for Castiel for three days – until she discovered a dead cat that looked like her pet. She buried the dead cat and bade him farewell.
Weeks later, after moving to New Hampshire, McCuiston discovered that she had missed a phone call from Young-Williams. Their message said that someone had found Castiel, alive and well, and had brought him to the shelter as a wanderer.
McCuiston called the shelter but discovered that the cat had already been adopted by someone else. Although the elated Castiel was still alive, McCuiston bade farewell again, believing his cat was now someone else's pet.
What happened in the meantime is a mystery. Castiel may have had other homes, but his microchip data has never been updated. And, given his run-down condition, Castiel had apparently been on the run for a while.
Back home
After their first contact, Williams and McCuiston communicated almost daily until Castiel was well enough to make the trip to New Hampshire.
Much of the cost of Castiel's care – like much of the routine and extraordinary medical care required by animals passing through the Blount County Animal Center – was covered by the Smoky Mountain Animal Care Foundation, a nonprofit organization. profit which helps finance the installation of the county.
Castiel's care included a bone marrow biopsy, time in an oxygen cage to improve wound healing, various medications to treat anemia, infections, heartworms, ringworm, and surgery to repair its tail.
Wanting to thank Williams and the Refuge for saving Castiel's life and bringing them together, McCuiston started a GoFundMe page that chronicled the cat's journey. He raised over $ 800. McCuiston donated some of the money to the Blount County Animal Center and uses the rest to pay for Castiel's medications and continuing care.
On October 16, after caring for Castiel for three months, Williams drove eight hours to personally return Castiel to his owner. The reunion took place at a hotel in Pennsylvania, halfway between here and McCuiston's home in Hudson, New Hampshire.
"I took care of him for so long, I felt a little bit possessive of him," Williams said. "I wanted to protect him until the end and see this thing through."
After a somewhat nervous reunion in the hectic hotel lobby, Castiel snuggled up next to McCuiston in the car for the drive back to New Hampshire.
McCuiston said Castiel was a lot like what she remembered him – he responds to her name, always likes to butt heads, and always prefers salmon cat food, the kind with chunks, not pate. He reconnects with his old boyfriend, Millicent, and carefully gets to know his new feline roommates, Blue Cheese, Lilith, and Ruby Jo.
For Williams, the happy ending brought some zest for life: "It was well worth all the time and effort to bring them together," she said. "Castiel is going to have his best life now."