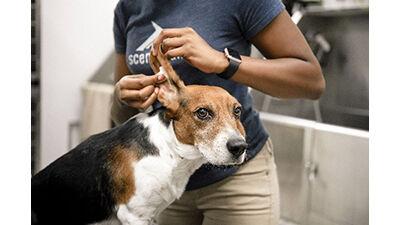 Scenthound opens first location in Colorado | Industry News
Greyhound, the brand famous for its wellness-focused dog grooming and routine care services, is pleased to announce the opening in mid-September of its first location in Colorado. Located at 7529 South University Blvd., the new business will be owned and operated by local husband and wife duo, Jim and Christy Boswell.
Christy, a seasoned operations professional in the HR consulting industry for over 20 years, seeks to set a new standard for routine dog care in the Centennial community and surrounding areas. Working alongside her husband Jim, a financial industry professional for over 20 years, with 10 years of franchise experience under his belt, the couple are looking to use their new business to capitalize on the recent increase in the number of owners. of pets nationwide. This will be Boswell's first "Scenter" in the region, with plans to open at least two more locations in the southern suburbs of the metro in the near future.
"One of the main reasons we chose to be Scenthound franchisees was to make a positive difference in our local community," said Boswell. "That's why we've partnered with the Humane Society of the South Platte Valley to participate in Scenthound's Clean Start program. Clean Start ensures that rescue dogs receive the proper grooming while awaiting adoption. We believe that all rescue dogs in the community deserve the best chance of being adopted into a loving family and we are proud to lend our efforts through the Clean Start program to make this happen.
The opening of the Centennial location marks an important milestone for the Scenthound brand as it enters new territory and continues its national expansion.
"Scenthound was first created to offer comprehensive grooming services suitable for all dog breeds," said Tim Vogel, CEO of Scenthound. "As we continue to grow nationally and enter new markets, we rely on the proactive efforts of local franchisees such as Christy and Jim to continue our core mission. "
Scenthound currently has 110 locations open or under development in 12 states. For more information and to find out more about franchise opportunities, visit here.