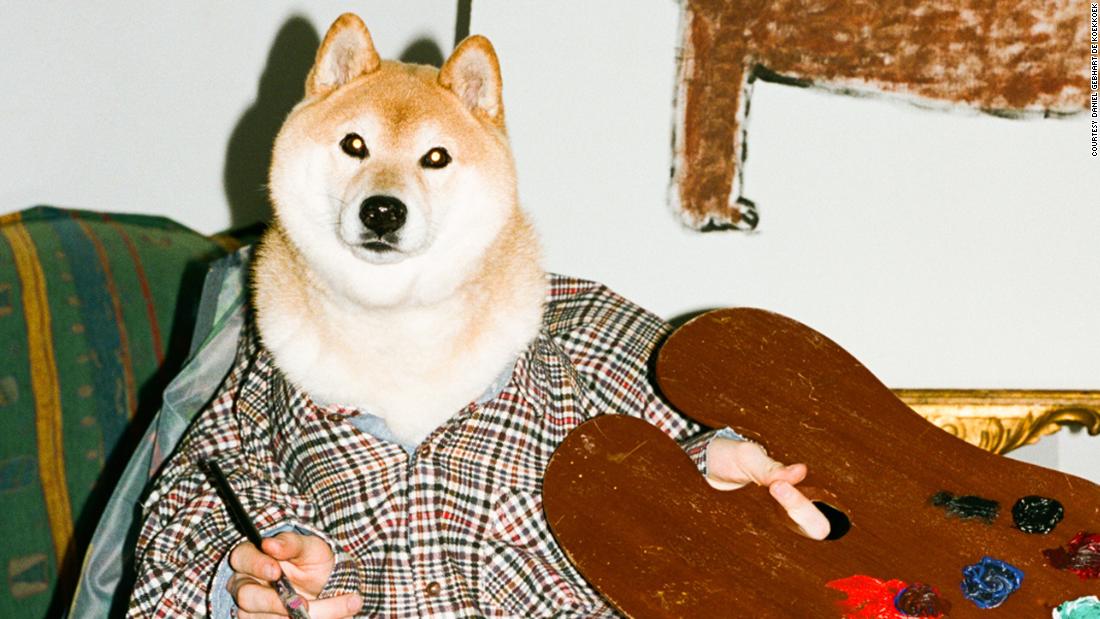 These dogs with jobs are the new stars of the 2022 calendar
Sam is a shiba inu artist from Berlin in a checkered button-down shirt posing with his easel. Bertha is a microdosed royal poodle chef who frequents the Berlin club Berghain. Bruno the boxer will jostle you in the pool at the local dive bar; Pan the tarot reading vizsla wants to know your sun and your rising signs.
At the photographer and director
Daniel Gebhart from Koekkoek
the new series of calendars, "
doggy style
", 12 dogs with jobs (and very specific modern lifestyles) are the stars in place of the traditional calendar girls. In snapshot-like photos, the dogs are wearing human clothes buttoned up around their furry necks. , their eyes staring or curiously looking at the camera. They perch on humans under clothing, with hands emerging to hold a phone at a business meeting or pump an iron at the gym. viewers are in the game, with paws and human faces not always hidden.
In recent years, Berlin and Vienna-based De Koekkoek has produced a tongue-in-cheek annual calendar revealing the secret lives of animals, including chaotic cats hanging in the air, cold alpacas edited in envious Instagrammable interiors. , and fluffy pin-up guinea pigs. It's a way for the photographer to complete the year of editorial and commercial work, for clients like Apple, Helmut Lang, the New York Times and L'Officiel.
Daniel Gebhart from Koekkoek imagined the lifestyles of 12 dogs in a new timeline. Credit: Courtesy of Daniel Gebhart from Koekkoek
"It's always a challenge to shoot with animals. You can't tell them what to do – or at least they won't care," De Koekkoek said via email. "I really like this honest approach and the challenge of communicating without words."
De Koekkoek himself is a dog owner – from Mr. October, Limo, who is an avid vegan rower – and for "Doggystyle" he let the dogs guide the creative direction. "The dogs came with their personalities and we just had to put their outfits and sets together to (emphasize) their lifestyle," he explained. (A dog, Amok, appears to be the most neurotic in a hat and a tin foil coin.) Mr. Limo, who is often the photographer's muse, was the project's "first try". "I really like the creative exchange between us, and we really like playing and experimenting," said De Koekkoek.
Joining Limo is a tired Shar-Pei businessman who has been in meetings all day (March), a distant Métis gamer who probably outshines you in Call of Duty (April), and a Chihuahua reporter overly enthusiastic about "DNN" (December). De Koekkoek says Mr. March resonates with him in particular because he "spent so much time in creative appeals this year during the (coronavirus) lockdown," he commented.
They are now part of De Koekkoek's insider look at animal lifestyles, although the photographer claims dogs do not canonically inhabit the same world as his previous weary alpacas or flying cats. "Maybe there's some space inside my kid's brain that they all come together to play with each other," he said.
He hopes the series can bring some lightness to what can be a stressful calendar year, once again. "Humor is what definitely drives my work," he said. "There are already enough bad things going on. So I want to give people a break and just laugh."