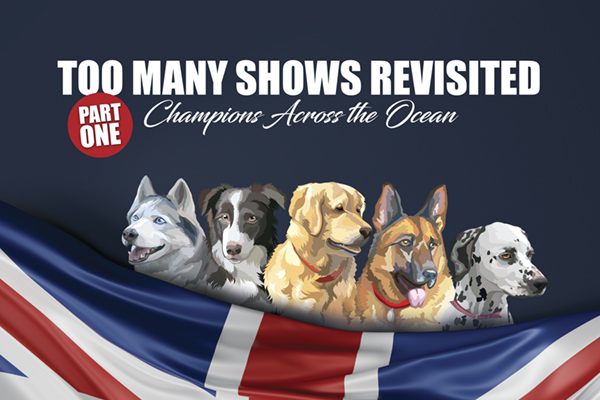 Too Many Shows Revisited – Part One – Champions Across The Ocean
Click here to read the full article
76 – November/December 2022
By Wayne Cavanaugh
If you visit England and hear that someone of your race has a champion, you do all you can to see him. Why? Because winning a league title in the UK is harder, and perhaps more revered, than here in the States. Opportunities are far fewer, breed entries per show are huge compared to those in the United States, and there are no classes for champions. In American terms, the three victories must essentially come "from the classes".
In the United States, we're used to having multiple shows to choose from each weekend and many weekdays where Champion Points can be earned. In the UK there are only 10 All Breed Championship Shows and 18 Championship Group Shows per year where Challenge Certificates (CC) are offered. CCs are the only wins that count towards a title and they are not always offered to all races at every Championship Show. There is a fixed CC allowance offered for each race. In 2024, for example, breeds that averaged fewer than 20 entries per show over the past five years will be awarded 11 sets of CCs (one for each sex) per year at all-breed and group shows. Breed clubs also hold specialty shows where challenge certificates can also be earned. For the under 20 category, up to 2 CCs can be allocated to specialties.
Wait, there are only 28 dog shows, plus specialties, in the UK each year where wins count towards a championship? Yes. But these are not the only dog ​​shows in the UK. There are numerous "Open Shows" held each year throughout the UK where CCs are not offered. Don't think for a second that Open Shows are equivalent to AKC Match Shows. They can be bigger and as competitive as our average AKC dog show and are an essential part of the sport, as they should be. Can you imagine the outcry if AKC changed one of our shows to open status to help rebalance the entry-to-show ratio?
Ironically, this past weekend, using only Saturday and Sunday broadcasts, 28 AKC All-Breed shows were held where points were offered for each breed – a typical weekend. So yeah, when it comes to the number of shows where championship wins can be earned, an entire year in the UK is roughly equivalent to two days in the US.
Click here to read the full article
76 – November/December 2022
short url: https://chroniquecanine.com/?p=250779